Ten days of Onam festival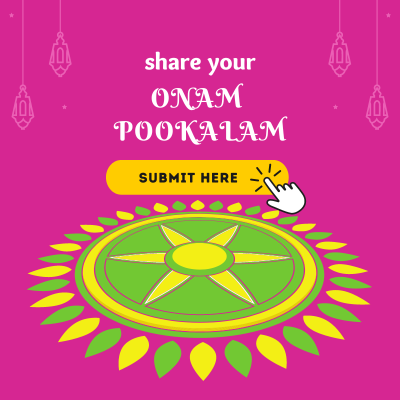 Onam is the most important festival of Kerala which marks the beginning of the harvest season. Enjoyed for ten long days, the celebrations range from dancing to singing to feasting, all in the group. Each day of this grand festival follows a specific set of customs, rituals and activities to highlight the cultural superiority of the state and its people.
Of all the ten days of Onam, the first day (Atham), the ninth day (Uthradam) and the tenth day (Thiruvonam) stand out for their elevated significance among the masses. Other seven days also witness a diversity of actions spread across the state, however, they never match the first and the last day in terms of splendour and grandiose.

Starting the 10 days of Onam festivities, Atham, the first day, is deemed auspicious by the Keralites, who observe it with early bath, the cleaning of house and the prayer at a nearby temple. The second day, Chithira, keeps people in the festive mood when many seek divine blessings. The third day, Chothi or chodi, is popular for joyful shopping, and marked by buzzing markets and people buying new clothes, frills etc.
Visakam, the fourth day, is also spent in shopping and household activities, and people can be seen busy in both. The Vallamkali Boat Race is the major attraction of the fifth day, which is organized on the banks of river Pamba at Aranmulla. Many cultural programmes, social get-together and mutual camaraderie are a speciality of the sixth day, Thriketa. The seventh day, Moolam, is spent on shopping, as the busy people anticipating the last days can be seen.
Pooradam, the eighth day, is the day when a popular ritual is organized wherein the people make clay idols, known as Ma. On the ninth day, Uthradam, the mutual exchange of farm products is done between the family members. On the tenth day of Onam, Thiruvonam, the chants of "Onaashmsakal" fill the air, where people wish and greet each other, and welcome the King Mahabali.
The festival of Onam continues for ten days in the state of Kerala.However, the scholars say that the festivities have toned down a lot in the present time.In the earlier days, Onam was celebrated for a month and much more lavishly.
Onam is still celebrated with joy on all the ten days of the festivities.There are some set rituals for each day and the people of Kerala dutifully follow them.The mood of people is upbeat all through the festival.Of all these days the 1st day Atham and the 10th day Thiruvonam are the most significant ones. Ninth day Uthradam is also considered to be extremely important from the point of view of the celebrations in several parts of Kerala.